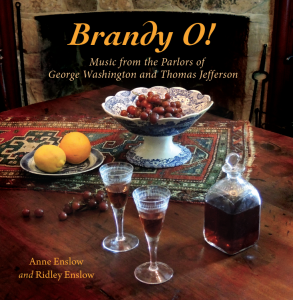 We are pleased to announced that our fifth CD, Brandy O! Music from the Parlors of George Washington and Thomas Jefferson, is finally out! It's a spirited selection from the vast archives of music in the households of our First and Third Presidents, distilled and refined for your most excellent diversion.
Writes one reviewer: "From the first grab of the violinist's bow, this is a CD that draws in the listener in a warm embrace and creates an intimate sound space, a virtual 18th-century parlor populated by superb musicians and engaging vocalists."
Cokie B. Roberts, journalist and author of Founding Mothers and Ladies of Liberty, calls it "lively, tuneful, and fun!" We hope you agree!