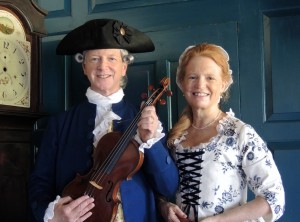 From the "liberty songs" of the Revolutionary War to the stirring ballads of the Civil War, Anne and Ridley Enslow recreate the music of American history—as moving in its own way as standing on windswept battlefields or reading the journals of those who lived through these tumultuous times.
Dressed in historically accurate clothing, we perform at historic fairs and galas, entertain at 18th-century tavern nights, play for historic dance performances and candlelit balls, and give concerts on historic themes—for example, The Real Music of Alexander Hamilton, Colonial Drinking Songs, Abraham Lincoln and the Civil War, Gilded Age Glory (political campaign songs of the 1880s, songs of the women's suffrage and temperance movements, and more!), and seasonally themed performances geared to spring, Independence Day, the harvest, and Christmas.
We play instruments appropriate to the period—an 18th-century violin for Ridley and hammered dulcimer for Anne (though you might also hear a mandolin, mountain dulcimer, jaw harp, or pennywhistle, depending on the show). We sing in harmony and tell stories of the times that gave rise to the music. Most of all, we try to have fun. As we've discovered, if we're having fun, the audience will have fun, too.
On this page, you will find occasional news items. Please check our calendar on this site for upcoming events. And feel free to reach out to us through our contact page.